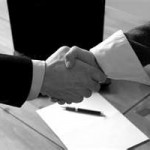 Sales training that delivers measurable results.
Has your income been squeezed by the current economy?
Do you have "difficult" clients or "difficult" colleagues?
Are your clients "shopping" you before buying? Or worse….not buying?
We can help.
Do you have a sales process in place? Is it working? Are you sure – are the metrics you're tracking in sync with the results you want to produce? Many of our clients are surprised to find that there's a disconnect between what they're measuring and the desire outcome. Since "whatever you measure – improves," it's critical to get this right.
We can help.
Through our unique application of behavioral and communication styles, Bull & Company can help your organization establish or refine a sales process which positions you to:
Create New Business
Distinguish Your Brand
Build Loyal, Long-Term Clients
Unlock Quality Referrals
Maximize and Engage Your Workforce
Decrease Turnover
We'll design an in-house corporate training event customized to deliver the results your organization seeks. Or, you can choose to attend a hands-on, interactive Bull & Company seminar.
Call us today at 941-320-7113 to explore the right solution for you!